Our commitment
Social projects and sponsoring
4L Trophy
In 1998, inspired by the famous Paris-Dakar Rally, six French students started off on an adventure in the desert for the first time. They pursued the ambitious goal of bringing school supplies for Moroccan children from Paris to Marrakesh. And as if this were not challenging enough, they chose the Renault R4 cult car, at that time a popular student car, as means of transport.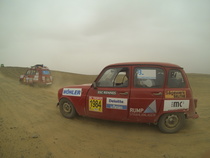 Humanitarian purpose
Each team collects and distributes a minimum of 50 kilograms of school equipment as well as ten kilograms of food for Moroccan children in order to give them access to an education. A total of over 60 tons of school supplies is typically collected, which the well-known organization "Enfants du Désert" (Children of the Desert), who collaborates closely with UNICEF, receives and passes on to various schools.
Learn more: www.r4teamwestfalen.de
Accent Baskets
Young, hungry, aggressive and dynamic – The Accent Baskets are a leading name in their regional basketball league of the West German Basketball Association in eastern North Rhine-Westphalia.

Learn more: www.basketball-salzkotten.de
DKMS
We support the German bone marrow donor agency DKMS by providing our employees and their families with opportunities to make donations and by funding these. Currently more than half of our employees are registered with the DKMS.
Learn more: www.dkms.de
Franciscan Sisters
We support the local Franciscan motherhouse and the Clara Pfänder Foundation: education for Aids orphans in Malawi/East Africa and for the children of poor families in Romania, rehabilitation programs for disabled people in Indonesia, and healthcare for pregnant women of the Amazon.
Learn more:
www.franziskanerinnen-salzkotten.de
TV 1864 Salzkotten
By supporting sports club TV 1864 Salzkotten e. V. we contribute to the sport and fitness facilities in our region.
Learn more: www.tv-salzkotten.de